First aid kit is equipped with all kinds of first aid items, such as gauze, bandages and tourniquet, etc. It is convenient for people to use rescue items in the case of emergency . It can be divided into different categories according to the different environments and different usage objects. According to different use objects, they can be divided into home first aid kit, outdoor first aid kit, car first aid bag, etc. Our latest classic #SE first aid kit will meet your different needs.
     OUR ADVANCED #SE FIRST AID KIT - This version of our classic kit was created after consumer feedback or our own innovation and upgrading, with improved and high-quality equipment for a more perfect first aid experience.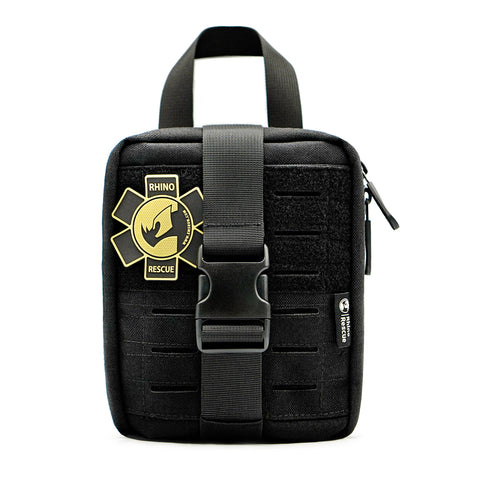 【Hemostasis】: This kit contains many first aid items for massive bleeding control which includes: tourniquet, Israeli bandage, compressed gauze, chest seal vented. Every product has its specific functions. All common feature is hemostasis.They can apply in different place.
     【Respiratory, Airway and Hypothermia Treatment】: Non-vented chest seals can suck chest wounds. Airway tube use in airway. While a shock often occurs after massive loss of blood, which comes hand in hand with a drop of body temperature. The emergency blanket is keep body temperature warm.
     【Bone Fracture Treatment】: Splint can keep your bones in position, and it wrap around by the triangle bandage and elastic bandage.The purpose is to keep the limb fixed. The set of the Splint, Triangle Bandage, and Elastic Bandage in this kit purposely treatments for any bone fracture of your limbs.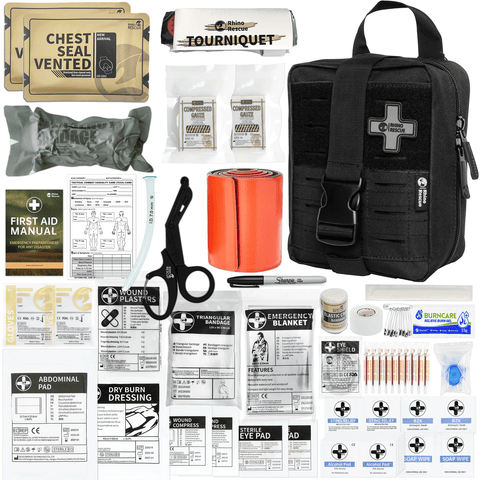 Rhino rescue store:RHINO RESCUE™ IFAK Trauma Kit – RhinoRescue (rhinorescuestore.com)
      Quora:First aid kit is equipped with all kinds of first aid items, such as gauze, bandages and tourniquet, etc. It is convenient for people to use rescue items in the case of emergency . It can be divided into different categories according to the differen - Quora